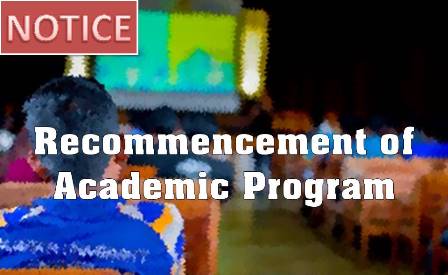 The Academic Program for 2016/17 and 2017/18 batch will be recommenced on 24.08.2020.
All students from both batches should produce the PHI verification report and University Student Identity Card at the Main Entrance. Student Record Book should be also kept with you to produce when required.
If any student unable to produce the PHI report on 23rd of August, He or She can come to the hostel on 24th of August with the report.
With the concern of prevailing situation, all students have to bring the masks and hand sanitizers for their personal usage.
Further, all students are requested to ensure that they are following the general health guidelines.
Students those who have hostel facilities will be allowed to hostel from 23.08.2020. All the boys will be accommodated in New Pandula Hostel (2 Students per room). Girls from the 2016/17 batch will be accommodated in the Viharamaha Devi Hostel (4 Students per room). 2017/18 batch girls will be accommodated in the Anuladevi and Rathnamali Hostels ( 2 Students in one room).
Dean, Faculty of Applied Sciences.